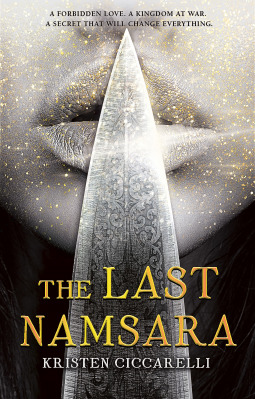 Author:
Kristen Ciccarelli
Format:
Hardcover, english, 432p
In the beginning, there was the Namsara: the child of sky and spirit, who carried love and laughter wherever he went. But where there is light, there must be darkness—and so there was also the Iskari. The child of blood and moonlight. The destroyer. The death-bringer.

These are the legends that Asha, daughter of the king of Firgaard, has grown up learning in hushed whispers, drawn to the forbidden figures of the past. But it isn't until she becomes the fiercest, most feared dragon slayer in the land that she takes on the role of the next Iskari—a lonely destiny that leaves her feeling more like a weapon than a girl.

Asha conquers each dragon and brings its head to the king, but no kill can free her from the shackles that await at home: her betrothal to the cruel commandant, a man who holds the truth about her nature in his palm. When she's offered the chance to gain her freedom in exchange for the life of the most powerful dragon in Firgaard, she finds that there may be more truth to the ancient stories than she ever could have expected. With the help of a secret friend—a slave boy from her betrothed's household—Asha must shed the layers of her Iskari bondage and ope
I'd heard quite a bit about 'The Last Namsara' before I received it in my FairyLoot Box, but somehow it didn't catch my interest, even though the cover is beautiful and the synopsis sounds quite interesting.
Months after I got it I finally, randomly decided to give it a go and I'm glad I did it. I really enjoyed the book as it had a unique story, a strong female lead and interesting word-building. And Dragons. And stories.
I loved the world this story is set in, although I felt it was a little narrow. The whole story took place within one city and it's surrounding area. There was mention of the scrublands but hardly anything else.
But honestly, there are dragons that can be lured in by old stories, which makes everything else unimportant.
In the story we follow Asha, a princess and dragon-hunter who is promised to the city's commandant. To be freed from that dreadful faith and gain back some standing with her people, who hate her, her father wants her to slay the oldest and most dangerous dragon Kozu.
I really liked that story line, as I haven't read about a princess before who was looked down upon by her people when the rest of her family weren't. Add the fact that she hunts dragons and I'm fascinated. Mix in a salve rebellion and an uprising and I'm in love.
Asha is a great heroine, she is strong-willed and a famous dragon-hunter, yet she isn't some kind of super-hero. I liked the fact that she first had to come to terms with the fact that slavery was wrong, despite the fact that she was regularly outraged about the way her beloved cousin Safire was treated. It made sense to me that for someone who grew up in a society like that it wasn't all that easy to just abandon everything she knew, not just when it comes to the skral but also the dragons. She did realize though and that's what's important.
I liked Torwin as a love-interest for her, but I feel like he was only there for that purpose. I would have loved to see more of his character and get to know him better, although I believe we'll have a chance for that in the sequel.
In general I felt like we didn't get to know the other characters well enough. I know Neither Dax , Safire nor Roa were as important as Asha was, but I wanted to know more about them, especially Roa who seemed fascinating to me.
I'm really looking forward to the next book, although I have no idea where the story will continue, as this would have been a great stand-alone as well.
I rated the book 4 stars.